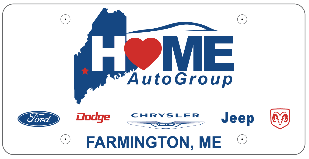 To our valued customers:
I want to personally thank you for being part of our family here at the Home Auto Group (Farmington Ford and Franklin Chrysler Dodge Jeep Ram) and share an update on the actions we are taking to help protect against the spread of the COVID-19. The rapidly changing coronavirus pandemic is a source of uncertainty for all of us.
At times like this, communication is key. I am writing today to share what we're doing to the Home Auto Group in response to this health crisis and let you know how we will continue to provide you with the high level of support and service you've come to expect from us, as well as keeping the health and well-being of our customers and employees at the forefront.
We have been working with our cleaning personnel to make sure they add more disinfecting services to their routine and clean all touchpoint surfaces on a regular basis in the dealerships. We have also made available to our staff and customers additional hand sanitizing stations, disinfectant wipes and sprays. After all test drives, we are reinforcing all employees to wipe down contact points in our vehicles with no exceptions.
As we all navigate through these changing times, we here at the Home Auto Group (Farmington Ford and Franklin Chrysler Dodge Jeep Ram) are and will remain confident and continue to push forward and put you in the driver's seat, by continuing to do business the way we are doing business but also allow you to make a choice.
1.       COME IN AND SEE US: I promise you a professional and clean atmosphere while you're here doing business.
2.       AT-HOME TEST DRIVES, SERVICE and DELIVERY: If you feel more comfortable with a salesperson coming to your home or work, we are expanding our ability to do at-home test drives. Please call us at 207-778-3334 to schedule a time with our sales professionals. We are also offering at-home or work pickup and delivery for all your service needs. When we drop off your vehicle, we will wipe down all surfaces.
As we all join to help each and everyone through these next couple weeks, we are remaining open and ready to service you and will continue to deliver the professionalism and service you deserve. We will be re-evaluating our policies and procedures as appropriate and will continue to keep you informed.
We have the best employees and staff, who all live in our community, and with the help of these preventive measures, we can help limit the spread of the coronavirus. If you have any questions, please give us a call and we will be very happy to assist.
Thank you for your continued loyalty to the Home Auto Group.
"WELCOME HOME"


Joseph "MAC" MacConnell
Owner
Home Auto Group
Farmington Ford
Franklin Chrysler Dodge Jeep Ram
207-778-3334